W.O. Lance Teacher of the Year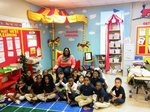 Ms. Gilbert with her class.
We would like to congratulate Ms. Gilbert for being chosen to be honored as W.O. Lance's 2016-2017 teacher of the year! Ms. Gilbert teaches first grade and we are proud to say her students, our school and our community are blessed to have an individual such as her in our lives! Thank you for all that you do Ms. Gilbert!!!